fresh sheets of paper to write on, a good pen, yummy food, trying new recipes, a beautiful sunny day, reading novels and cooking magazines ... among other things!
Today I want to point out a new cooking magazine ... it really is great!!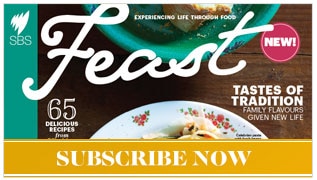 From the web site ...
"Get ready to experience life through food. Feastmagazine is all about meaningful food experiences, delving deeper into the world's most popular and untapped cuisines, and meeting the people and stories behind them. In doing so, we hope to celebrate and bring to light all the beautiful traditions and recipes which continue to enrich Australia."
The photography is beautiful, the range of food and recipes excellent, lots of Australian
restaurants and families featured.
There is also a Feast Cookalong blog, where they try some of the recipes featured in the magazine ... great idea!!
The second issue is on sale now and I'm thinking about subscribing!!